Ports, Roads, Aviation, Railways
Ports
Merchant Shipping Bill, 2016
Allowing substantially-owned vessels to be registered as Indian flag vessels
dispensing with the requirement for issuing of licences to Indian flag vessels for coastal operation and for port clearance by the Customs authorities
seafarers held in captivity of pirates will receive wages till they are released and reach home back safely
Incorporation of all International Maritime Organisation Conventions
Provisions of the Bill will simplify the law governing merchant shipping in India and will help India's Sagarmala project and development of Coastal Economic zones.
Major Ports Authority Bill, 2016 
Why? 
Port Trusts are not leasing out the land to Private operators in time.
Multiple agencies are involved in decision-making process leading to delay.
No independent board to look into disputes between stakeholders in case of landlord port model
Provisions
Simplify composition of Board of Port Authority
BPA will be empowered to lease land for port-related use for up to 40 years & for nonport related use up to 20 years
Independent Review Board – look into complaints regarding services rendered by the private operators.
Jal Vikas Marg Project – (capacity augmentation of National Waterway-1) between Varanasi and Haldia with technical and financial assistance of World Bank
---
Roads
Transit Oriented Development 
It enables people to live within walking or cycling distance from transit corridors like the Metros, Monorail and Bus Rapid Transit (BRT) corridors. It is already being taken up in Ahmedabad, Delhi, Nagpur and Navi Mumbai.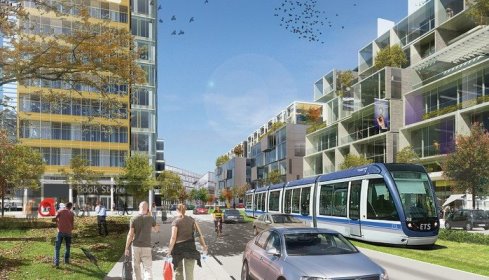 Transit Oriented Development Policy 
City densification will be promoted along mass transit corridors via. vertical building construction by enhancing Floor Area Ratio
would promote decongestion of roads
may also open more avenues of better land use from the land
need to integrate land use planning with transportation and infrastructure development against the present pattern of unplanned and haphazard urban growth
Challenges 
Funding constraints
Require changes in behaviours of people – walking, cycling, public transport
land acquisition
Older infrastructure may need to be destroyed and be rebuilt again in a planned manner – require people's consent and political will
Indian Bridge Management System  – IBMS is being developed to create an inventory of all bridges in the country and rate their structural condition so that timely repair and rehabilitation work can be carried out based on the criticality of the structure.
---
Aviation
Proposed Reforms 
Amending Airports Authorities of India Act to monetize the land with AAI, as it is very restrictive on monetizing the lands – Monetizing the land better would allow government to build more airports – Building airport infrastructure would become self-funded and self-sufficient.
Transformation of civil aviation PSUs like Air India, Pawan Hans etc – As loss making – CAG says:
Subsidized and free travel for VIPs hurt airline
Liberalized policy on international routes like non-stop flights to US were loss making
Money was wasted to purchase and lease aircrafts – Acquisition took 8 years (1996-2004)
In early 2004, planes were inducted despite being no demand for that
Acquisition was funded by raising high interest loans and debts.
Government has limited resources to finance the airline. Also, money used for its restructuring can be used in other welfare schemes. The private sector has the objective of maximizing profit. Privatizing the national airlines may be an obstacle to the objectives of the recently proposed civil aviation policy For eg. Capping of air fares
In recent times airport privatization has taken the form of awarding management contracts rather than a change in ownership For eg. Jaipur and Ahmedabad airports – This is a welcome step. Civil Aviation PSUs should be reformed gradually starting from alternatives like outsourcing smaller operations to private sector.
Regional Connectivity Scheme, Udan
Seeks to reserve a minimum number of UDAN seats i.e. seats at subsidized rates and also cap the fare for short distance flights – to develop the regional aviation market.
The selection of airports where UDAN operations would start would be done in consultation with State Government and after confirmation of their concessions.
Regional operations – A financial stimulus in the form of concessions like tax concessions, exemptions from parking and landing charges + A Viability Gap Funding to the interested airlines to kick-off operations from such airports so that the passenger fares are kept affordable.
Airlines represent luxury. In a poor country like India, it seems a case of misplaced priorities when governments and passengers have to bear the cost of additional subsidies to connect regional air routes.
The environment for airlines to operate is already highly taxed (taxes on ATF is among the highest in the world). So another levy to fund the regional connectivity scheme is annoying airlines further.
---
Railways
Derailments constitute 50% of the total rail accidents, followed by 36% accidents at unmanned level crossings gates.
Reasons for rail accidents in India 
Lack of fire detection systems: Most trains in India still lack effective systems to detect smoke and fire
Lack of anti-collision technologies: These are devices that automatically halt the train if it overshoots a red signal. India, which has the world's fourth-largest railway network still doesn't have such safety devices
Staff deficit: Shortage of staff; workers are often overworked
Inappropriate maintenance of tracks: Nearly 25 % of the total railway track in India is over age and is due for replacement – Khanna Committee
Negligence of the Government: Committee reports are lying dormant and recommendations un-implemented like Sam Pitroda, Anil Kakodkar, Bibek Debroy
Accidents also occur due to sabotage
Steps needed for reducing railway accidents 
Strict auditing regarding the integrity of tracks regularly
Ultrasound fault detection machines used for precise fault detection
Strict legal action against employees; allowing trains to be loaded heavily beyond prescribed limits
Ensure materials used in the construction of tracks are of high quality
Anti-Collision Device and Train Protection and Warning System
A time-bound filling up of vacancies in Critical Safety Categories
Prioritizing the completion on Sethu-Bharatam to eliminate all unmanned level crossings on broad gauge network
Rail Development Authority
Central governments have been fixing the fares mostly based on political considerations. This has led to instances of cross-subsidization and losses to freight sector.
Functions 
To recommend tariff commensurate with costs
Frame principles for social service obligation
Suggest policies for private investment
Fix efficiency standards and resolve disputes related to any concession agreements.
Collect, analyze and disseminate information and statistics concerning the rail sector
Its recommendations would not be binding. It would only give its recommendations to the Railway Ministry which will be the final authority to take decisions. Therefore, this move may remain tokenistic.
Non-fare revenue policy
Selling outdoor spaces at railway stations for advertising hoardings and billboards.
Providing radio and video content through Wi-Fi on stations and on trains.
Leasing out spaces at platforms to ATMs.
Selling branding of rights of trains and stations.