GM Mustard, Food Processing Sector, SAMPADA Scheme
GM Mustard
GEAC gave a positive recommendation for the commercial use of GM mustard for 4 years subject to certain field conditions.
Arguments in favour of GM mustard 
Superior crops – generate better yields and are resistant to pests & diseases – needed in future to address threats from climate change
India imports thousands of tons of GM edible oil every year with no evidence of health effects
GM crops is central to push for investment and growth in the biotechnology sector
Swadeshi GM – GM mustard, unlike Monsanto's Bt cotton, has been indigenously developed in the public sector
Arguments against GM mustard 
Use of GM mustard will increase chemicals in our food and farms
Even 25% adoption of GM mustard will lead to loss of more than 4 crore employment days by poor women in mustard growing areas
There is still opacity, i.e., there is no public data on effects of GM on human health, food chain & allied sectors
It is not "Swadeshi GM" as the genes used are the property of multinationals
Farmers will be forced to buy seeds every season than using farm-saved seeds, affecting their sovereignty, crop diversity and profitability.
Way forward
Consultation with state governments on the issue given that agriculture is a state subject
Grievance redressal of all stakeholders before allowing GM mustard in the market
There should be a liability clause, that is, if something goes wrong the liability should be fixed statutorily for accountability mechanism
---
Food Processing Sector
Contributed 1.6 % of India's GDP in 2015-16 – approx. 10 % of agriculture GDP & 9% of manufacturing GDP
An important source of both direct and indirect employment, accounting for 12% of formal employment in 2015-16
Contributes directly to economic growth through reducing food wastage, creating jobs and export earnings
Challenges
Food processing firms, particularly SMEs have difficulties in accessing finance
Lack of quality infrastructure, including cold storage, storage for nonperishables, distribution networks & transportation, raise costs and inhibit competitiveness
Small farm sizes, uncertainty related to price, availability and quality of raw materials, and limited skilled manpower pose further challenges.
A well -developed Food Processing Industry helps in the reduction of wastage, improving value addition, promoting crop diversification, better return to farmers, promoting employment as well as increasing export earnings. India ranks number one in total food production globally, but have very high post harvest losses & less than 10% processing level of the large production base – Can do wonders.
---
SAMPADA (Scheme for Agro-Marine Processing and Development of Agro- Processing Clusters)
Objective of the scheme is to supplement agriculture, modernize processing and decrease agri-waste.
An umbrella scheme incorporating ongoing schemes like Mega Food Parks, Integrated Cold Chain and Value Addition Infrastructure etc.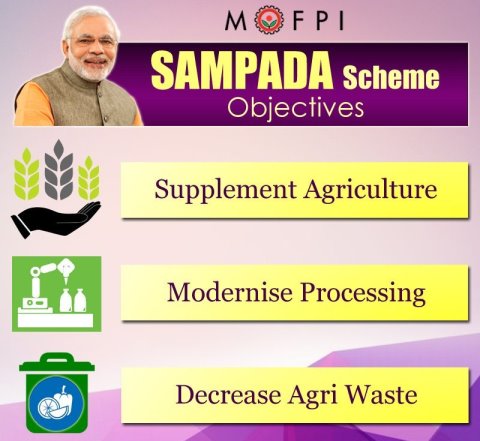 Significance 
Convergence of various schemes would help in better implementation of the programmes.
The scheme would also help in reducing the post-harvest losses.
Would help in fulfilling the demand of processed foods like edible oils, juices etc.
Food industry as compared to other industries has the largest number of factories and engages the largest number of employees. This scheme would boost the employment prospects.
Processed foods can also help address the problem of malnourishment by increased availability of nutritionally balanced food.