Farmers Producer Organisation, DBT in Fertilizer Sector, ICT in Agriculture
Farmers Producer Organisation
FPO is one type of PO where the members are farmers. Across India, almost 3,000 FPOs have now either been registered or are in advanced stages of mobilisation. Farmers, who are the producers of agricultural products, can form groups and register themselves under the Indian Companies Act.
To overcome a host of challenges confronting small and marginal cultivators
modelled on operation Flood programme that involved support to dairy cooperatives
Challenges 
It takes 4 to 5 years to form a FPO that can stand on its feet
Influential and bigger farmers tend to join cooperatives. FPO's are with small and marginal farmers in majority membership.
Way forward 
Providing them urgent credit in an organised, institutional form
Providing comprehensive Early Stage funding for activities such as bulk purchase of inputs
Encouraging Value Chain Financing under Priority Sector Lending
Warehouse Receipts-based Lending and Price Risk Mitigation
There is a need to promote FPOs on a scale similar to the SHG movement. SHGs became prominent because of NABARD's continuous nurturing of the concept and coordinating with various Government agencies to create an enabling policy environment.
---
Direct Benefit Transfer in fertilizer sector
Why?
Fertilizer sector has high leakages of about 40% – will prevent leakages to make subsidies targeted
Will minimizes administrative complexity in fertilizer sector given high government control presently
Government has a real-time Fertilizer Monitoring System that monitors the fertilizer supply chains
Economic Survey – Give DBT in cash certifying identity by Biometrically Authenticated Physical Uptake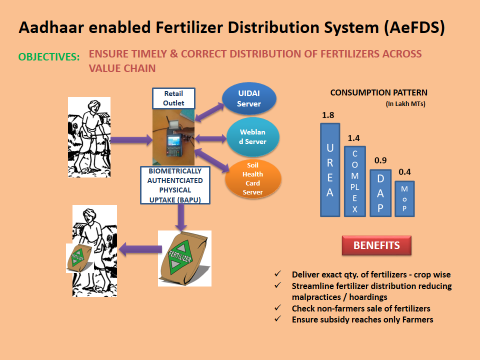 Challenges 
Beneficiaries and entitlements are not clearly defined
Farmer may be burdened financially to give MRP and subsidy upfront to receive the DBT afterwards
Before DBT, there is a need of reforming the subsidy structure in fertilizers which promotes the excessive use of Urea and destroys soil health
Suggestions 
Bringing urea under nutrient based subsidy compared to current practice of cost based subsidy
Decanalizing urea imports: Allowing more agencies to import urea and giving them more freedom in procurement decision would allow flexibility in adjusting to demand
Secure long-term supplies from locations where energy prices are cheap ex. Iran & Oman
Government should make full use of universalization of banking via the Jan-Dhan Yojana, efficient targeting via Aadhaar, and the increasing spread of smartphones, to extend DBT to fertilizer sector
Some other reforms in fertilizer sector
Neem Coated Urea – checks diversion of urea from agriculture uses and also reduces leaching of nitrogen into soil.
Gas price pooling – Price of domestic natural gas is averaged or pooled with cost of imported LNG to create a uniform rate for fertilizer plants.
---
Potential role of ICT in Agriculture
Agriculture is an information intensive sector where farmers should be well versed in the latest farming technologies and business techniques.
Information dissemination throughout crop-cycle through technologies regarding weather conditions & input requirements Example – DD kisan
Increasing productivity by precision farming
Awareness of up-to date information on prices for commodities, inputs and consumer trends – eNAM
Collectivization of producers – to facilitate appropriate alliances and overcoming the barrier of small landholdings and achieving economies of scale – FPO
Insurance – PMKSY aims to assess damage to crops for insurance purposes through satellite & Drone imagery
New employment opportunities – in rural sector eg- information kiosks – will reduce the disguised unemployment
Modernisation of land records
Farmers' web Portal where a farmer can get information on a range of topics for ex. mKisan Portal