Agriculture Distress, Loan Waiver, Doubling the Farmers income
Economic Survey – Growth rates of agriculture have been dismal at 4.9 % in 2016-17 – attributed to mainly deficiency in rainfall for two consecutive years.
National Sample Survey on Agriculture Household
Land Fragmentation and demographic pressure has pushed down the land
The predominance of small operational holdings is a major limitation to economies of scale in agriculture
Non-farming income comprises 40% of the income of farm households, but access to nonfarm sources of income is highly skewed as about 53% of farm households reported zero income from such sources
---
Agriculture Distress
Fragmented land holding, depleting water table levels, deteriorating soil quality, rising input costs and low productivity
Modern agriculture requires investment in farm machinery and use of purchased inputs like seed, fertilizer, agro chemicals, and hired labour, which requires huge input cost
Rising expenses on health, education, social ceremonies & non-food items put additional pressure on farmers
Agricultural Debt 
Majority of the farmers have to take loans from non-institutional sources with approx. 4 time higher interest rate than banking channels
The amount of short-term institutional loans exceeds the total cost of inputs including hired labour indicating that a part of crop loans is likely spent on non-agricultural purposes for example marriage, social ceremonies and to pay the interest of informal loans
The vicious cycle of loan and interest payment put the farmers into debt trap, which further disincentives them to opt-out of farming.
Farmers Suicide 
NCRB data shows that in 2015, a total of 12,602 people in the farming sector committed suicide in the country and more than 72% of farmers who committed suicide had less than two hectares of land
Farmer Suicide adds the socioeconomic cost to family in particular and disincentives for future generation to join the agriculture as an occupation in general
---
Loan Waiver
The recent farmers loans waived off by Uttar Pradesh government has set a ripple effect for similar loan waivers demand by farmer community in various states.
Challenges to loan Waiver 
Only a third of small and marginal farmers have access to bank credit two third of them will not benefit from the loan waivers
Earlier PAC pointed out that Agricultural Debt Waiver and Debt Relief Scheme, lead to corruption, error in inclusion and exclusion of beneficiary, inadequate documentation, and unused fund with the institutions
RBI has observed that farmer loan waiver undermines the honest credit culture
Loan waiving is one major cause of NPA and crowding out of the infrastructure & private financing.
This could also lead to States violating their FRBM targets making them fiscally irresponsible and creating losses to the State exchequer
Solutions of Agricultural Distress 
A dedicated institutional credit mechanism for farmers to avoid dependence on informal costlier credit
Need for changing the cropping patterns according to the agroclimatic zones Eg. Pulses in water deficient areas
Improving irrigation infrastructure by emphasizing on new technologies like sprinkler & drip irrigation as is being focused in PMKSY
Rainwater harvesting, aquifer recharge & "Million Wells Recharge" programme is the need of the hour as directed by MS Swaminathan commission
Government needs to improve its storage infrastructure as recommended by Shanta Kumar committee
An adequate procurement and MSP mechanism for different crops and in different locations
For post-harvest financial losses, there should be a greater coverage of the insurance, especially for the small and marginal farmers – PMFBY
To maximize farmer's profit – Agricultural marketing and real-time price discovery is needed
Allied sectors like animal husbandry should be promoted along with traditional agriculture to create a buffer to fall upon.
Loan weaver is only a suboptimal solution not intended to solve the root cause of agricultural distress. Moreover, it would further put a dent on credit culture of farming community. A holistic action framework ranging from front end to back end support for agriculture is need of the hour.
---
Doubling the Farmers income by 2022
Requires a holistic change in both the structural and functional aspect of agriculture sectors
Increasing incomes by improving productivity – technology + agro-climatic conditions
Water and Agro Input policies – Rationalizing NPK & fertilizers subsidy + Check spurious pesticides + integrated water use policy
Integrated farming system – Animal Husbandry promotion through 'Pashudhan Sanjivani", Animal Health Card, E Pashudhan Haat + Promotion of intensive vegetable production
Better market price realization – Revision of APMC Act + Agro infrastructure, storage systems + Reducing postharvest losses + eNAM with easing of norms of licensing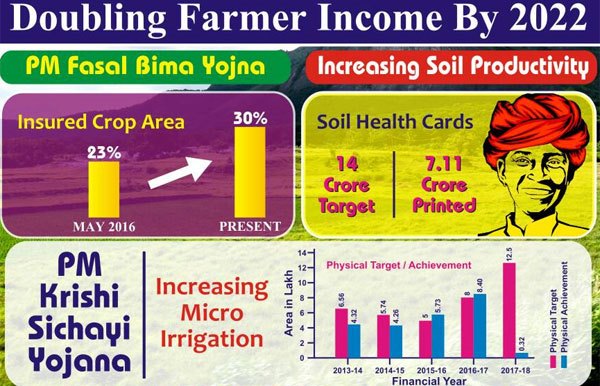 Special Policy Measures – Structural reforms in agriculture pertaining to land leasing + ICT-based agricultural extension + Agriculture to be brought to Concurrent List, nationwide crops competitiveness study
Pradhan Mantri Krishi Sinchayee Yojana – Launched in 2015 with an outlay of ₹ 50,000 crore, the scheme aims to improve irrigation coverage. It have four components: Accelerated Irrigation Benefits Programme, Har Khet Ko Pani, Per Drop More Crop and Watershed Development